Héron Demo (APP) credentials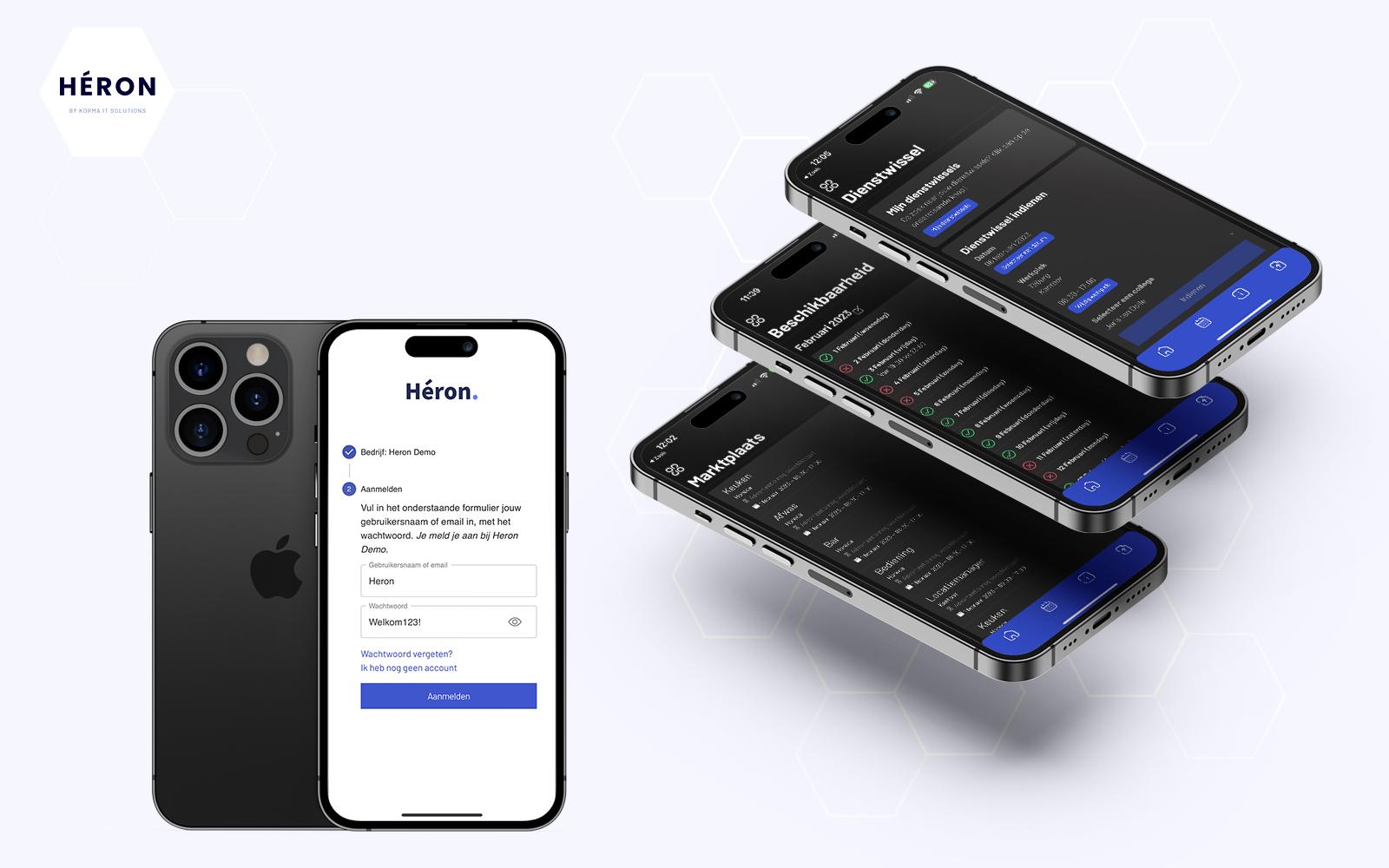 Hello, I am Joris from Korma IT Solutions.
👋🏼
We would like to introduce you to our personnel planning software (we call this Héron). Héron is already used by Equipe Zorgbedrijven, Ouwehands Zoo and Toyota Material Handling, among others.
We have a desktop app for planners, managers, administrative assistants, etc. We also have a mobile app intended for the employee "on the floor".
Feel free to look up https://lnkd.in/epf_9SmG For more information!
𝗚𝗿𝗮𝗮𝗴 𝘇𝗼𝘂 𝗶𝗸 𝘂 𝗻𝘂 𝗲𝗲𝗿𝘀𝘁 (𝗴𝗲𝗵𝗲𝗲𝗹 𝘃𝗿𝗶𝗷𝗯𝗹𝗶𝗷𝘃𝗲𝗻𝗱) 𝗸𝗲𝗻𝗻𝗶𝘀 𝘄𝗶𝗹𝗹𝗲𝗻 𝗹𝗮𝘁𝗲𝗻 𝗺𝗮𝗸𝗲𝗻 𝗺𝗲𝘁 𝗼𝗻𝘇𝗲 𝗺𝗼𝗯𝗶𝗲𝗹𝗲 𝗮𝗽𝗽. 𝗘𝗿𝘃𝗮𝗮𝗿 𝗻𝘂 𝗶𝗻 𝟯 𝘀𝗶𝗺𝗽𝗲𝗹𝗲 𝘀𝘁𝗮𝗽𝗽𝗲𝗻!
Step 1: Download the "Korma Planning" App.
Step 2: Log in to the demo account.
Once you have downloaded the app, you can log in to our demo environment with the details below.
𝗕𝗲𝗱𝗿𝗶𝗷𝗳𝘀𝗻𝗮𝗮𝗺:     
𝗚𝗲𝗯𝗿𝘂𝗶𝗸𝗲𝗿𝘀𝗻𝗮𝗮𝖺
𝗪𝗮𝗰𝗵𝘁𝘄𝗼𝗼𝗿𝗱:   

Herondemo
Heron
Welcome123!

Step 3: Experience our App.
Feel free to click through our app and experience it and its features at your own pace! On https://lnkd.in/eRZN3NE8 You will also find some additional explanation if there are any uncertainties or questions about certain functions.
Would you prefer a personal conversation (💻 online or at ☕️ location) or if you have any questions about the system, I can be reached by email at
joris@korma.nl or by telephone at +31 6 15 24 41 70. You can of course also respond to this message.
Hopefully see you soon!
With kind regards,
George ten Dolle
Korma IT Solutions
Custom demo?
Please feel free to contact us.